Looking for a good TV show that'll motivate you to keep on trading? Our list combines iconic finance shows, comedic takes on trading and cryptocurrency depicted in every shape and form – all binge-worthy pieces that'll inspire you to dream big.
Go through our top ten TV-Shows for cryptocurrency enthusiasts and find your ideal pick for those well deserved off-work evenings.

10. Black Monday
If you liked Wolf Of Wall Street we know you'll love this dark comedy show. Although it won't teach you a lot about finance, it provides a laidback overview of the trading atmosphere in the '80s. It's a great pick for anyone who enjoys black comedy and wants to learn a few tricks from the old school kings of Wall Street. It's not for the faint of heart though, the characters' offensive comments will target just about anyone.

Stream on Hulu: Black Monday on Amazon
9. Traders
Do you appreciate those slightly cringy but ever so fun shows from the late nineties? Then we think you'll love Traders – a Canadian series that follows the story of employees in Garden Ross, a Toronto-based investment bank. Although it 's packed with dramatic scenes of their love lives, it's also a great overview of the importance of decision-making, the risk of making alliances, and all other challenges of the investment world.

Stream on Amazon: Traders on Amazon

8. How To Buy Sell Drugs Online (Fast)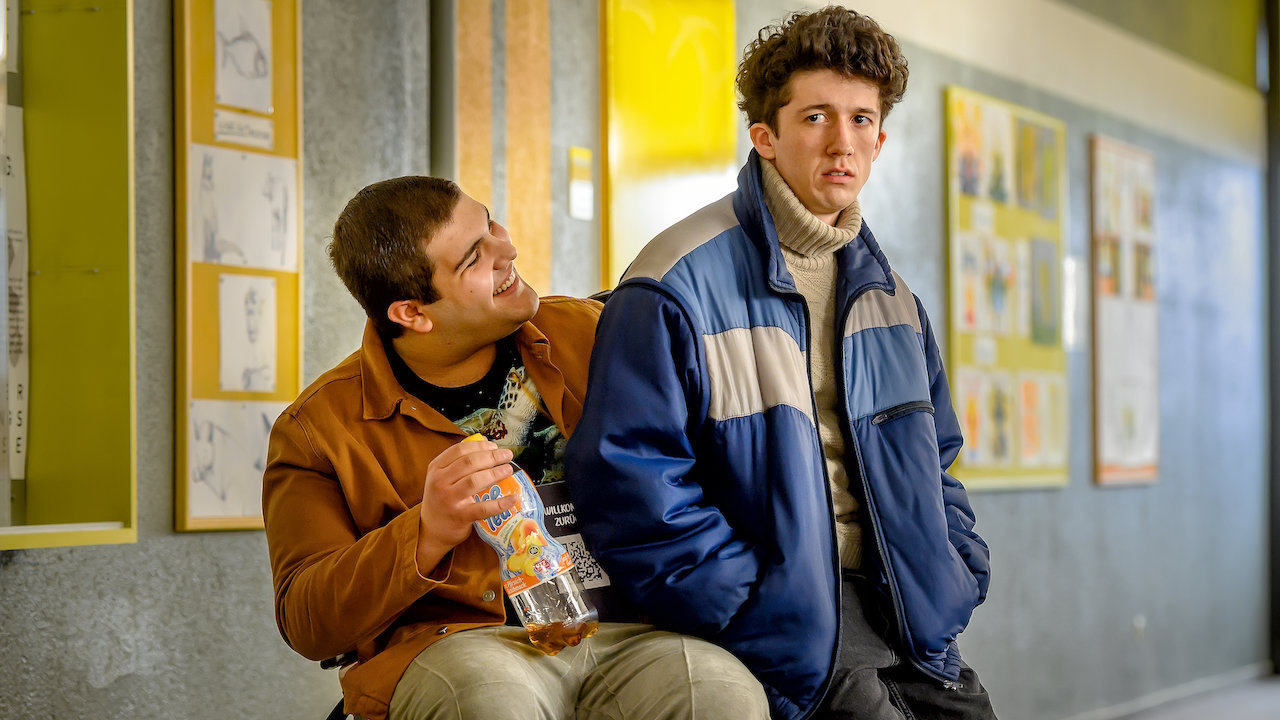 There's nothing like a good coming-of-age drama and this freshly released show by Netflix is the best representation of the genre for Cryptocurrency enthusiasts. It follows the true story of a German high-school student, who started selling ecstasy through the deep web to win back his ex-girlfriend. Sooner than he anticipated, things got out of control and his venture became one of the largest online drug businesses in Europe. Although it's a story about friendship in its core, the creators of How To Sell Drugs Online (Fast) stated that it represents the beginning of the cryptocurrency age of television. (Source: Variety)

Stream On Netflix: How to Sell Drugs Online Fast on Netflix
7. The Good Wife
If you're interested in seeing a crypto story from a legal perspective, then you'll enjoy the popular "Bitcoin For Dummies" episode in The Good Wife. Alicia Florrick takes on the role of a defense attorney for a man who created a new online currency. The episode discusses trading, mining, and the price of BTC and reminds us of the good old days when Bitcoin was only a few bucks.

Stream On Netflix: The Good Wife on Netflix

6. Billions
Looking for a binge-worthy TV show that'll teach you to never give up? Check out Billions, an awarded series by HBO that covers a neverending battle between a U.S. attorney and a hedge fund king. It's an exceptional story for anyone that wants a closer look into the world of trading and corruption, and also features cryptocurrency as a way to hide profits from unwanted attention.

Stream On Hulu: Billions on Hulu

5. The Simpsons
It may surprise you that this classic got a spot on our list, but we believe it's a perfect choice for those lazy Sunday afternoons. The Simpsons never failed to keep up with the modern times, and BitCoin was featured in Season 25, Episode 1 and Season 26, Episode 7. When you need a rest from trading, enjoy some time with the Simpson Family and find out if you are luckier than Krusty the Clown when it comes to Cryptocurrencies.

Stream on Amazon: The Simpsons on Amazon

4. StartUp

Many TV shows have featured cryptocurrency in some of their episodes, but StartUp is the only one that built its entire plot on it. A hopeless banker, Haitian gang-lord and an ambitious hacker with an idea to revolutionize money create GenCoin, a digital currency inspired by Bitcoin. The StartUp offers a unique perspective of both the technology and philosophy of crypto and is a must watch for every cryptocurrency enthusiast who enjoys a good thriller.

Stream on Amazon: StartUp on Amazon

3. Silicon Valley
Do you believe Cryptocurrencies are an ideal form of money that would make Aristotle proud? Then we're sure you'll enjoy this addictive show by HBO. It follows a story of five enthusiastic friends who want to find their moment of glory in Silicon Valley. In season 5, they launch their cryptocurrency PiedPiperCoin and we follow their journey packed with typical business challenges and hilarious characters with big goals. It's a great comedic take on the decentralization of money, and one of the most comprehensive crypto stories found on mainstream TV up to date.

Stream on Hulu: Silicon Valley on Hulu

2. Mr. Robot
This popular TV show features Rami Malek in the role of a cyber-security engineer and rebellious hacker and is one of our favorite picks for cryptocurrency enthusiasts. In Season 2, the economy collapses, making up space for the reign of Bitcoin. This is when the series becomes especially interesting for crypto enthusiasts as it bravely plays with the idea of a cashless society. Mr.Robot is controversial, daring and delivers a dystopian forecast of our future which will keep even the toughest traders at the edge of their seat. Many believe the show's cryptocurrency Ecoin predicted Facebook's Libra – and it covers the same concerns skeptics have on this controversial currency, especially in Season 2 Episode 11.

Stream on Amazon: Mr. Robot on Amazon

1. Coming soon: Cryptos
Kevin Connolly, the star of Entourage, announced a new cryptocurrency series that should come out sometime this year. It will cover the story of four actors who decided to build their cryptocurrency with a goal to take over Hollywood. The makers of the show are blockchain enthusiast themselves, and they want to help the general public to better understand the crypto concept through fun plots and relatable characters. Could this become the ultimate TV Show for cryptocurrency enthusiasts? We truly hope so, but we're yet to find out.

Cryptos is not available for streaming at this moment.
Wrapping Up
Let us know what you think of our picks for the top ten TV shows for crypto enthusiasts. Give some of them a go, and let us know what's your personal favorite in the comments below.
If you enjoyed this Article, Follow Us on Twitter, Facebook, and Instagram and subscribe to our Newsletter to stay up to date on the latest developments regarding Cryptocurrencies.